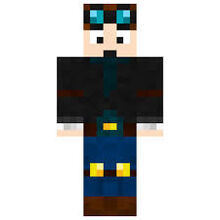 DanTDM, TheDiamondMinecart, commonly referred to as Dan (real name Daniel Andrew Middleton) is a British player unit in Dan's videos.
Dan is good friends with a villager called Dr. Trayaurus and a skeleton dog called Grim. He gets himself, Trayaurus, and sometimes Grim into various predicaments, mostly do to one of Trayaurus' science experiments going wrong. Sometimes some of the adventures involve Dan getting harmed in some way such as when Trayaurus accidentally turned him into a mutant zombie after giving him a potion to cure his fever or when Trayaurus blended Dan's DNA with a Wither and formed a hybrid Wither monster that began destroying a nearby village.
Dan lived with Trayaurus and Grim in the lab (a large structure build in the middle of a desert biome), but the three now live in another lab after Trayaurus ultimately sold the lab in the desert in exchange for a bigger one in a forest biome.
Dan, being a famous Youtuber, has been featured in many games, TV shows, and any other content a few made by himself and a few made by others. He voices Cy in skylanders academy, he voiced himself, DanTDM, in minecraft storymode, he appeared in the tube heroes commercial, his mincraft skin appeared in a surgeon simulator mincraft map, a pac dan map, and in 3 minecraft mods which are the dantdm lucky block eggs mod, a mod where it spawns giant youtuber dungeon statues, the thediamondmincart mod, he also appeared in celebrity street fight, he also has a minecraft custom map dedicated to the time he broke his hand, he also has his own skin in draw a stickman epic 2 with a pug sword, he has his own villager in tomadachi life, he appears in his book trayaurus and the enchanted crystal, and he has his own box skin in the game unbox
Trivia
In games
Thediamondminecart mod was the mod that allowed an actual diamond minecart in minecraft.
He's terrible at parkour. Some people don't believe that.
Real life
He has 2 pugs named Ellie and Darcie. Peggy passed away.
He has 2 computers in his workspace.
He has changed his hair color from brown to blond to light blue to dark blue.
add more to this please.
Community content is available under
CC-BY-SA
unless otherwise noted.