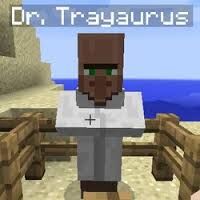 Dr. Trayaurus
Character
Dr. Drew Trayaurus is a librarian villager that is the owner of the lab along with DanTDM. They are the one who builds the contraptions in the lab. Overall, he is a very smart scientist who made a lot of contraptions. For example, the "Revival Machine". If you are curious of what it does, it was used to revive Grim with his bones, although Grim turned into a skeleton dog. He also made a machine that send mobs to the prehistoric era. As you can see, he is a very smart scientist. Although, he is also very crazy. He jumps on tables, which always annoys DanTDM.
Disappearance
Although Dr. Trayaurus has been one of the most iconic things about DanTDM's videos, his appearances slowly ceased after the purchase of the "new lab" in 2016. Soon, he altogether disappeared from Dan's videos, and his last appearance was in Dan's short-lived "Misadventures" series, which only had two episodes,
Many fans beg Dan for him to come back, but Dan has moved away a lot from making Minecraft roleplays and is much more interested in doing other things. But in a recent video in which Dan was answering comments, he said that Dr. Trayaurus could possibly come back in an animated series if he finds a good animator.
aka:
BRING DR TRAYAURUS BACK!!!